Workshop // Toronto 2017
3 day sculpture workshop with Gosia, in Toronto, 2017
HEY EVERYONE, I AM OPENING MY STUDIO DOORS TO INVITE YOU TO SCULPT WITH ME FOR 3 DAYS! THE FOCUS OF THE WORKSHOP WILL BE TO PRACTICE SCULPTING A SMALL BUST IN CERAMIC CLAY, WITH EMPHASIS ON AESTHETIC AND STYLIZATION. IT WILL INCLUDE A BUST DEMO BY YOURS TRULY, AS WELL AS MULTIPLE MINI DEMOS AT EACH STAGE OF THE CREATIVE PROCESS; FOLLOWED BY ONE ON ONE INSTRUCTION & FEEDBACK. THE TOOLS AND THE PROCESS I'LL BE GUIDING YOU THROUGH ARE EXACTLY WHAT I USE TO CREATE MY WORK.  


SO EXCITED TO GET CREATIVE WITH YOU ALL!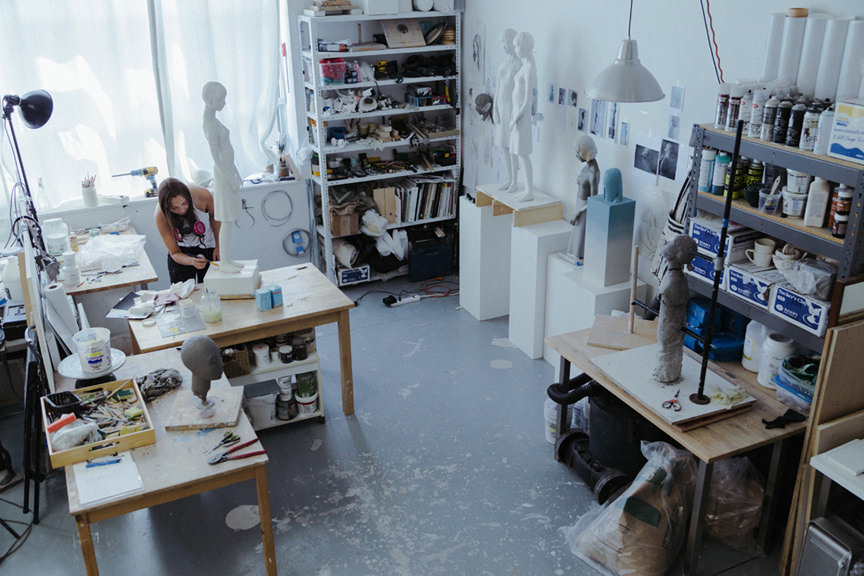 // MATERIALS | YOURS TO KEEP : CLAY, SCULPTING TOOLS, ARMATURE PARTS, TURNING TABLEFOR WORKSHOP USE ONLY : MIRROR, REFERENCE PHOTOS, COTTON CLOTH, SPONGES, SPRAY BOTTLES, WATER CONTAINERS, ETC.
// LOCATION | TORONTO, ONTARIO, CANADA | NEAR DUNDAS ST. E. & CARLAW AVE. | COMPLETE ADDRESS WILL BE PROVIDED FOLLOWING REGISTRATION
// DATES & TIMES | 2017 | FRIDAY MAY 26, 10:30AM-5:30PM | SATURDAY MAY 27, 10:30AM-5:30PM | SUNDAY MAY 28, 10:30AM-5:30PM
// SCHEDULE |  TIMES WILL BE ADJUSTED AS NEEDED
10:30AM - 1:00PM // MEET 'N' GREET | Q&A | SCULPTING DEMO
2PM - 5:30PM // SCULPTING DEMO CONTINUED | ARMATURE CONSTRUCTION | SUPPLY SET UP AND DISCUSSION
10:30AM - 1PM // BASIC HEAD FORM - DEMO AND SCULPTING | NOSE – DEMO AND SCULPTING | MOUTH & LIPS – DEMO AND SCULPTING
2PM - 5:30PM  // EYES – DEMO AND SCULPTING | HAIR – DEMO AND SCULPTING | NECK & SHOULDERS – DEMO AND SCULPTING
10:30AM - 1PM // TORSO & CLOTHES – DEMO AND SCULPTING
2PM - 5:30 PM // SMOOTHING & FINISHING TECHNIQUES - DEMO AND SCULPTING | DISCUSSION AND OPTIONS FOR HOLLOWING/FIRING
//
PRICE | $580 |  INCLUDES ALL MATERIALS ( YOU JUST NEED TO BRING YOURSELF ! ) + ACCESS TO ALL OTHER STUDIO TOOLS 
PAYMENT IS TRANSFERABLE AND REFUNDABLE ONLY UPON SERIOUS EMERGENCY (DOCUMENTATION WILL BE REQUIRED)