1 week ceramic bust sculpting workshop with Gosia + live demo
only 10 spots available

​​​​​​​
I was inspired by my own experience of turning to art for comfort and nature for inspiration.  I've been doing this since I was a child, but it wasn't until my medium became ceramic clay that I felt its real power; there's something about having your hands in clay that is truly therapeutic. The physicality of having to use my body to create, while at the same time allowing my mind to focus on the task at hand, brings clarity to my life. My recent workshops, where I shared my skills with others, have made me realize that this affect is universal. I'm excited to explore this idea further by bringing together a group of amazing people for a full week to sculpt, meditate and enjoy nature for a deeper sculpting workshop experience. We will also be focusing on nourishing creativity through self care and wellness. 
The whole group will be staying in Tres Volcanes Ocean Villa, at the edge of the North Pacific Ocean, in a remote jungle resort named Salt Escapes in Salinas Grandes, Nicaragua. I was intrigued by the idea of an isolated resort to help disconnect us from our regular lives. I was also drawn to Salt Escape's raw and unmanicured style, connecting its visitors to the elements.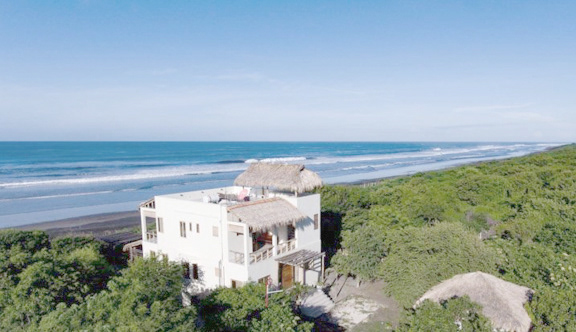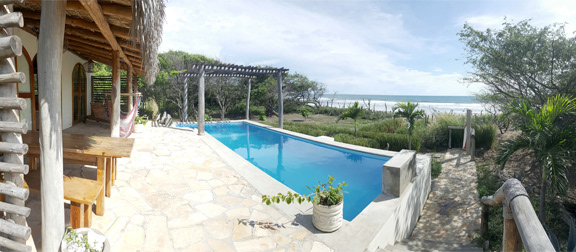 Daily meditation sessions on the Villa's rooftop patio and walks on the beach will further aid in clearing our minds. And yes, we can definitely combine the two like in the picture below! The lady in this photo is Rachel, our wonderful hostes, massage therapist and Doula, who will be guiding us through our meditation and stretches.
The whole villa is yours to enjoy so the group will truly get to be in their own little world! You'll be bunking in the villa's 3 large bedrooms - one on the main floor and two, ocean side on top floor. There are 4 shared bathrooms, a private pool, rooftop patio, games, Primitive Patterns outdoor jungle gym and (at times spotty) wi-fi .
Salt Lodge Restaurant is only steps away, where you can enjoy unlimited free drinks and 3 free meals everyday. I picture group dinners, with lively discussions and delicious food! Also, each morning, you'll also be greeted in the villa with coffee, tea and fruit before you make your way to breakfast. 
For an added fee you can also enjoy surf lessons, boogie board rentals, horse back riding and various wellness services offered by the resort. ​​​​​

The best thing about this retreat is that it all happens in the same place. Where you'll be staying is also where you'll be creating. The studio will be on the main floor of the villa facing the pool/ocean side. You'll have access to your sculpture anytime you want, if you wish to work on it outside the lessons, even at night!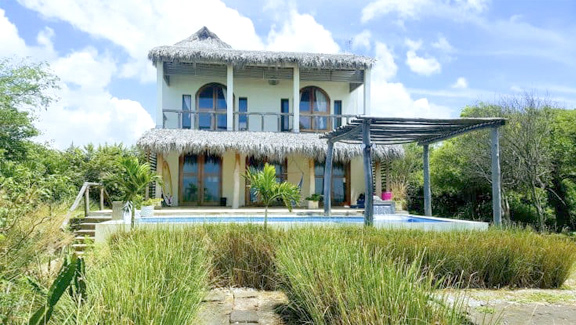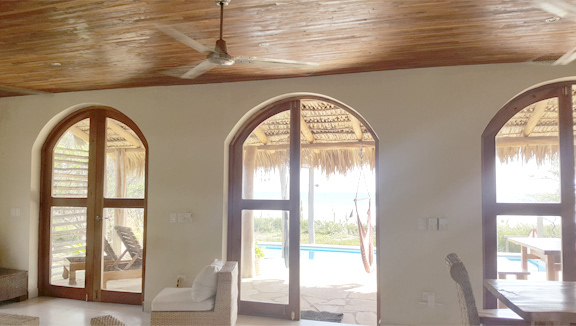 You may book your flight to Augusto Cesar Sandino International Airport in Managua (MGA). We will have a free group airport pick-up on February 1st at Best Western Hotel across the street from the airport at 1pm and a free group airport drop-off at 11:30am on February 7th. If you can't get a flight in time for the group pick-up or drop-off, or if you wish to stay longer to enjoy Nicaragua, you can book a room at the meeting Best Western Hotel. There is also the option to taxi in on your own for $90 USD. It's a 2.5-3hr drive to the resort. Please wait to book your flight until you receive an e-mail from me, following the booking deadline on October 31st or book a refundable flight. This will help protect your money, if the minimum attendance for the 
workshop is not reached.  
I will be teaching you everything you need to know to create your own ceramic bust. Emphasis will be on facial features with a strong focus on understanding the nature of clay and the tools. Starting from armature to finishing techniques, I will be sharing knowledge I've refined during my years of sculpting.  All of these methods are exactly the same as I use to create my own work. Building your confidence and eliminating the intimidation which many people feel towards sculpting will also be an important element.
This is an introductory course, you do not need to have prior sculpting experience. Each of you will create their own armature, and sculpt a half life size ceramic bust of a female character, using provided photo references. I will be creating a bust along with you, demonstrating the process step by step.  After teaching each step, I will give guidance to everyone one on one, ensuring no one falls behind. ​​​​​​​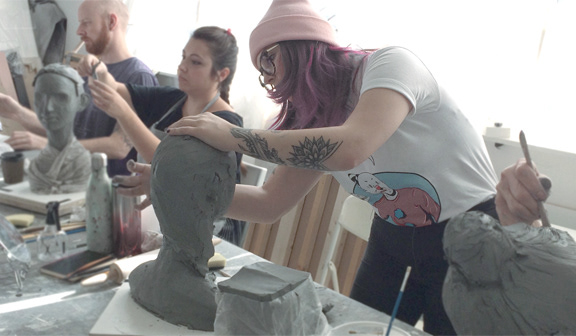 We start with a 2hr live sculpting demonstration of a head study.  The steps I will demonstrate will be the same ones you will follow in the coming days. This short presentation will help lift the mystery of what's to come, ease nerves and get everyone excited to sculpt!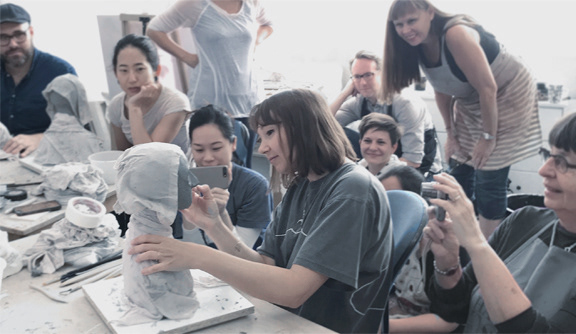 Everything you need to sculpt will be provided, you do not need to worry about bringing anything. You'll each be given a tool kit,  comprised of my favourite tools collected from various sources, and we'll be using local clay from a nearby volcano.
Since this is a retreat workshop, completing and/or firing of the sculpture will not be part of the course. Becoming a great sculptor takes lots of practice and part of that is letting go of works ( we'll get more into that during the retreat ). The sculpting is an exercise, but you get to take the knowledge home. Take good notes and photos and you'll be able to do it again and again!
Early bird price | Sept 16 - Oct 10 | $1,800 USD 
Regular price | Oct 11 - Oct 31 | $2,100 USD 
Does not include flight | Please wait to book your flight until you receive an e-mail from me following the booking deadline on October 31st or book a refundable flight
Closes October 31, 2020 | Beginners welcome | 18+
I took Gosia's workshop because I had an interest in scuplture and left with a passion. Gosia is so generous with her teachings, it seems like second nature to devote time and share her knowledge with her students. I encourage anybody with an interest in sculpting to treat themselves and dive into her magical and mysterious world.  You will leave feeling richer. Thank you again Gosia ! 
- Claudia Tremblay, Illustrator/Painter, Montreal, Canada
I learned so much in this workshop! Gosia is so organized, so precise in teaching the concepts, and also one of the kindest, most caring individuals I have ever encountered!  She is so generous in giving out the knowledge we came for, and  she does not disappoint! She is so encouraging at the same time competent at what she does. She also instills  new knowledge into her students without stifling his/her own creativity or confidence...she actually builds up ones confidence! I would highly recommend Gosia's workshop to anyone at any level!
- Gay Ribisi, Talent Manager, Los Angeles, U.S.A.
As an admirer of Gosia's work, I knew I couldn't pass up an opportunity to take a workshop with her....and I am so glad that I took it!  Sculptors of varying levels will benefit from this course as the focus is on perfecting the foundation of the bust, as well as tricks/tips that she's perfected over the years.  She is a kind, passionate and natural teacher.  While the course is packed with technical information, there is also plenty of opportunity to get one-on-one instruction from her as you work through your bust.  She is able to quickly identify areas that you may need more support on, and of course, always gives tips to help.  It's also pretty cool that by the end of the workshop, you can see how her "demo" bust starts to transform with her special style shining through.  All in all, I highly recommend this course to anybody that is looking to sculpt the human form at some point in their creative process." 
- Sonia Kim, Director of Finance, Toronto, Canada
This workshop is such an eye opener for a novice sculptor like me and I felt like a whole new world of possibilities opened up to me after the workshop! It was very inspiring and motivating! I learned so much about the medium and my understanding for clay escalated under the expert and knowledgeable teaching of Gosia. She is very thorough, articulate and generous with her time and knowledge. She puts her heart and soul into imparting all she can in the workshop and we all benefited so much from it! It was a perfect balance of professional mentorship and warm atmosphere where everybody learned together. Each person got 1 on 1 guidance every step of the way, this is something you cannot emulate in an online class.  Best decision I have made this year and I am looking forward to Part 2 of the workshop!  
- Shiuan Chan, Concept Artist at Imaginism Studios, Singapore
Gosia's sculpting workshop was great - relaxed, fun, informative and very hands on.  Everything's supplied, just bring your desire to learn to sculpt.  Gosia takes the intimidation out of the process and frees you to just sculpt! I know I'm a better sculptor after the course! - 
- Mary Ann Grainger, Sculptor, Toronto, Canada
Thank you so much for hosting such a thoughtful, organized and creative workshop! I truly love your work, and found it inspiring to be surrounded by your pieces while getting an insight into your process. The clay is dreamy, and will for sure be a medium I will be using! You are a fantastic instructor - in a class of ten students, you somehow managed to give each of us personal attention and guidance on our pieces, while keeping the pace flowing. I would absolutely recommend your workshop to anyone, regardless of sculpting experience level - it felt like you met each of us at the level we where at, and I have no doubt that we all walked away enriched by it. 
- Berdene Owen, Graphic Designer, Lunenburg, Canada