1 week ceramic bust sculpting workshops with Gosia + live demo
only 10 spots available

​​​​​​​
I was inspired by my own experience of turning to art for comfort and nature for inspiration.  I've been doing this since I was a child. But it wasn't until my medium became ceramic clay that I felt its real power; there's something about having your hands in clay that is truly therapeutic.  The physicality of having to use my body to create, while at the same time allowing my mind to focus on the task at hand, brings clarity to my life. My recent workshops, where I shared my skills with others, have made me realize that this affect is universal. I'm excited to explore this idea further by bringing a group of amazing people together for a week to sculpt, meditate and enjoy beautiful nature, for a deeper sculpting workshop experience. For a full week we will focus on sculpting as well as nourishing creativity through self care and wellness. In a small, intimate group we will learn the process of sculpting a bust in ceramic clay, as well drawing inspiration from the sun, water and earth. 
We will be staying as a group in Tres Volcanes Ocean Villa, at the edge of the North Pacific Ocean, in a remote jungle resort named Salt Escapes in Salinas Grandes, Nicaragua. I was intrigued by the idea of an isolated resort to help disconnect us from our regular lives. I was also drawn to Salt Escape's earthy feel. I love that it is raw and unmanicured, connecting its visitors to the elements.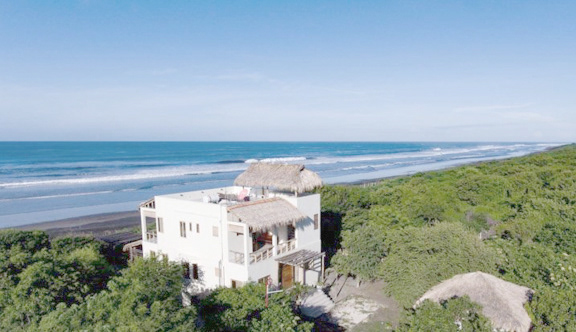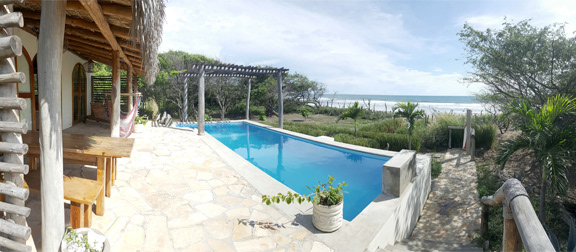 Daily rooftop patio meditation sessions and walks on the beach will further aid in clearing our minds. And yes, we can definitely combine the two like in the picture below! The lady in this photo is Rachel, our wonderful hostes, massage therapist and Doula, who will be guiding us through our meditation and stretches.
The whole villa is ours to enjoy, so we get to be in our own little world! We'll be bunking in the villa's 3 large bedrooms - one on the main floor and 2 ocean side on top floor. There are 4 shared bathrooms, a private pool, rooftop patio, games, Primitive Patterns outdoor jungle gym and (spotty) wi-fi for your enjoyment. 
Salt Lodge Restaurant is only steps away, where you can enjoy unlimited free drinks and 3 free meals everyday. I picture group dinners, with lively discussions and delicious food! Each morning, we'll also enjoy coffee, tea and fruit in the villa, before we make our way to breakfast. 
For an added fee you can also enjoy surf lessons, boogie board rentals, horse back riding and various wellness services offered by the resort. ​​​​​

The best thing about this retreat is that it all happens in the same place. Where we're staying is also where we'll be creating. Our studio will be on the main room of the villa facing the pool/ocean side. You'll have access to your sculpture anytime you want if you wish to work on it outside the lessons, even at night! 
You may book your flight to Augusto Cesar Sandino International Airport in Managua (MGA). We will have a free group airport pick up on February 1st and drop off on February 7th. Meeting place will be at Best Western Hotel across the street from the airport, exact times to be determined. If you can't get a flight in time for pick-up or drop off, or if you wish to come for longer to enjoy Nicaragua, you can book a room at the meeting Best Western Hotel. There is also the option to taxi in on your own for about $90 USD. It's a 2.5hr drive to the resort. Please wait to book your flight until you receive an e-mail from me following the booking deadline on October 31st or book a refundable flight.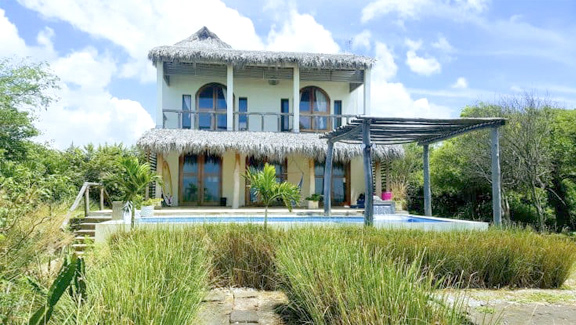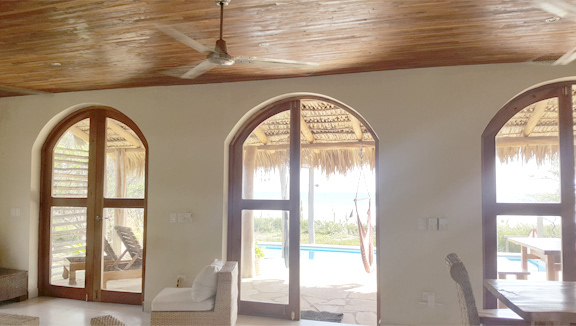 I will be teaching you everything you need to know to create your own ceramic bust. Emphasis will be on facial features with a strong focus on understanding the nature of clay and the tools. Starting from armature to finishing techniques, I will be sharing knowledge I've refined during my years of sculpting.  All of these methods are exactly the same as I use to create my own work. Building your confidence and eliminating the intimidation which many people feel towards sculpting will also be an important element.
This is an introductory course, you do not need to have prior sculpting experience. Each of you will create their own armature, and sculpt a half life size ceramic bust of a female character, using provided photo references. I will be creating a bust along with you, demonstrating the process step by step.  After teaching each step, I will give guidance to everyone one on one, ensuring no one falls behind. ​​​​​​​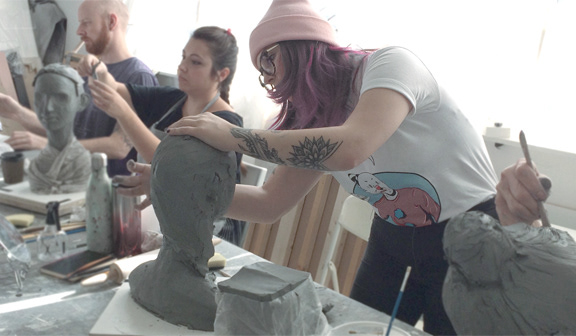 We start with a live 2hr sculpting demonstration of a head study.  The steps I will demonstrate will be the same ones you will follow in the coming days. This short presentation will help lift the mystery of what's to come, ease nerves and get everyone excited to sculpt!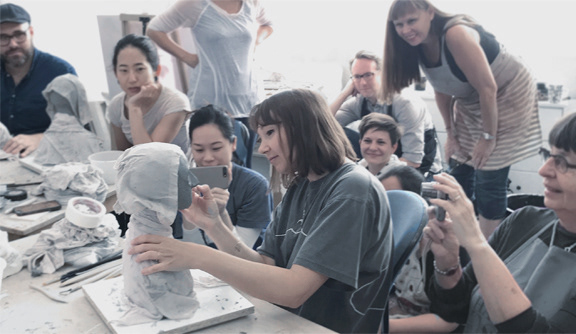 Everything you need to sculpt will be provided, you do not need to worry about bringing anything. You'll each be given a tool kit,  comprised of my favourite tools collected from various sources, and we'll be using local clay from a nearby volcano.
Since this is a retreat workshop, completing and/or firing of the sculpture will not be part of the course. Becoming a great sculptor takes lots of practice and part of that is letting go of works ( we'll get more into that during the retreat ). The sculpting is an exercise, but you get to take the knowledge home. Take good notes and photos and you'll be able to do it again and again!
Early bird rate | Sept 12 - Oct 10 | $1660 USD 
Regular Price after October | Oct 11 - Oct 31 | $1780 USD 
Non-refundable | Does not include flight